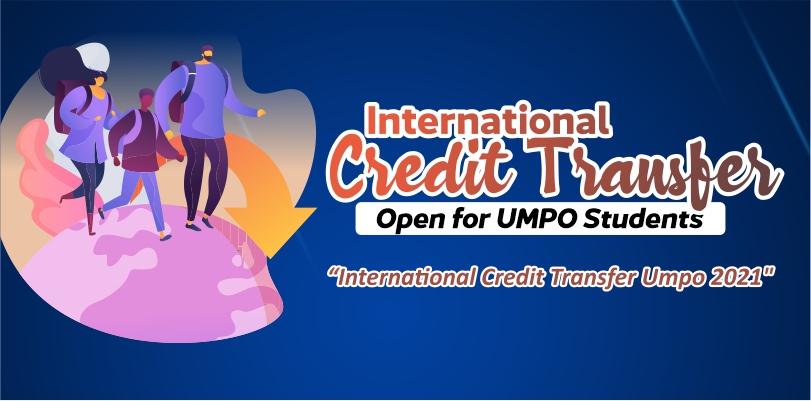 ---
---
International Credit Transfer
Open for UMPO Students
INTERNATIONAL CREDIT TRANSFER UMPO 2021
The International Credit Transfer Program provides opportunities for Indonesian students to interact with students and communities abroad. Thus, students will get added value in the form of increasing hard skills and soft skills, expanding and strengthening networks, cooperation, understanding socio-culture and internationalization of the higher education system in Indonesia.
Program Registration Link:


Full Scholarship COVERAGE
Online/onsite
TUITION FEE
Paid at cost
Onsite
ALLOWANCE
Including, living cost, insurance and misc fees
AIRFARE and VISA
Return economy class airfare from and to host university city
Registration and Socialization : 16 – 23 Apr
Announcement : 6 May
Eligibility Criterias FOR UMPO Students
1. Proof of English Proficiency Certificate (TOEFL ITP, TOEFL IBT, IELTS) which has the same equivalent range score with minimum TOEFL 450 score and IELTS 5.0,
2. Active as an undergraduate student at UMPO (Semester 4-7),
3. An enthusiast committed to joining the student exchange program full from preparation till the programme ends.
MORE DETAIL
Contact bhk@umpo.ac.id / humas@umpo.ac.id